Leaders from the Osage and Chickasaw Nations and the FBI joined Grann for panel discussion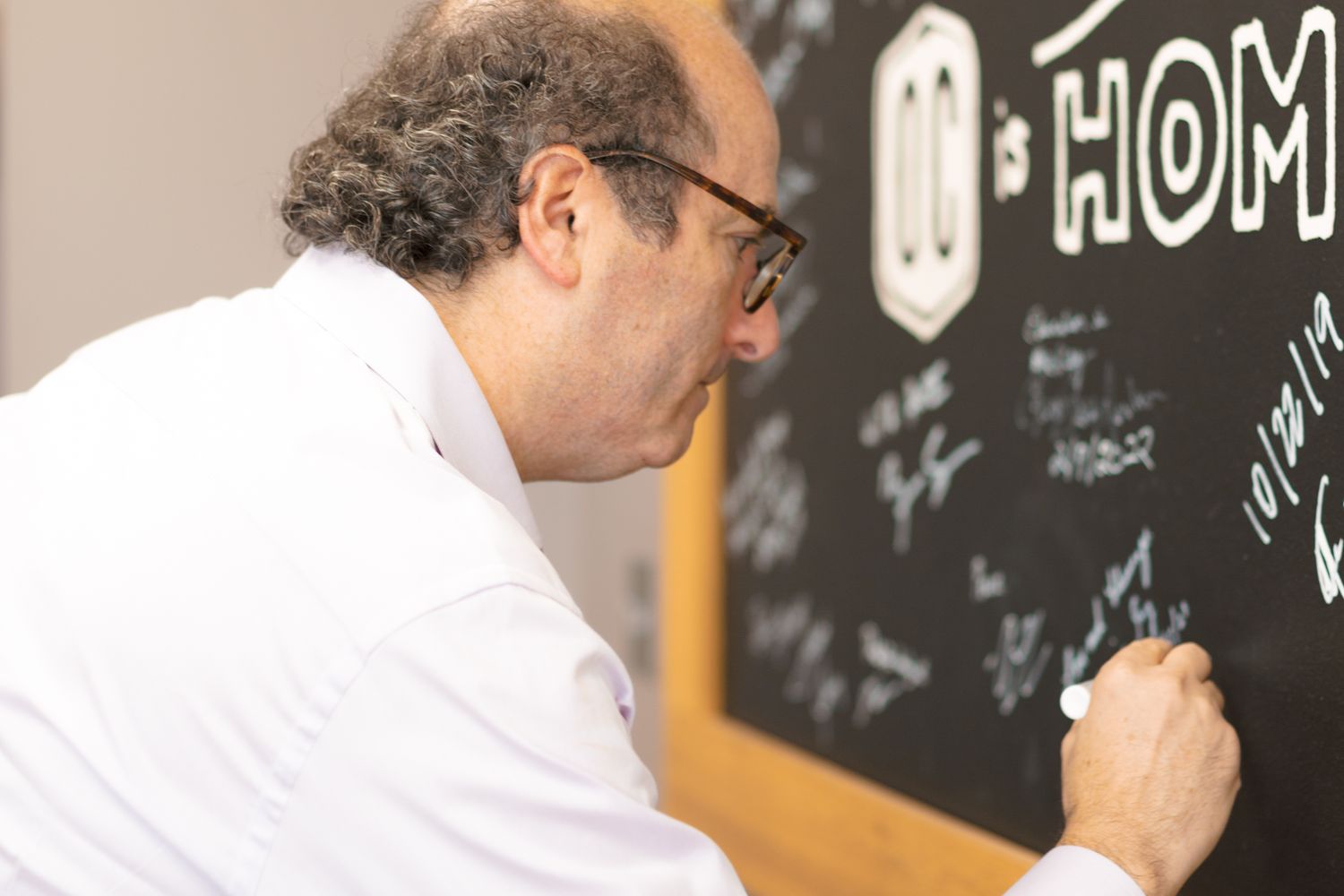 OKLAHOMA CITY, OKLA – Oct. 18, 2023 – On Tuesday, Oklahoma Christian University (OC) hosted David Grann, author of #1 New York Times bestseller "Killers of the Flower Moon: The Osage Murders and the Birth of the FBI," for a public lecture at the university's Baugh Auditorium to a full audience.
"Through events like this, we have an opportunity to continue the conversation, restore our past and become the kind of nation we want to be in the future," Grann said.
Preceding the lecture, OC facilitated a panel discussion with Grann, Osage Principal Chief Geoffrey Standing Bear, Chickasaw Nation Governor Bill Anoatubby and Oklahoma City FBI Special Agent Edward Gray. Dr. Jeff Simmons, OC's Dean of the College of Business, moderated the panel titled, "Digging into the Depths of Greed: A Case Study of the Osage Murders of the 1920s."
"In the midst of national attention surrounding such a horrific time in our history, I am grateful to David Grann and Oklahoma Christian University for facilitating an important conversation where we can examine the tremendous impact these events have had on our people," Osage Nation Principal Chief Geoffrey Standing Bear said. "David's excellent work has highlighted the terrible injustices suffered by Osage people, and we will continue to tell our stories through dialogue, art, research and scholarship as we honor the memories of those we have lost."
Both the lecture and panel discussion were free and open to the public and were made possible by OC's McBride Center for Public Humanities and the J.J. Millican Ethics Symposium. Sponsors included the Chickasaw Nation, Rainbolt Family Foundation, Kaiser Family Foundation, Oklahoma Humanities Council and the National Endowment for the Humanities.
"It's important to reflect on our shared history as Oklahomans, even difficult and tragic events," Chickasaw Nation Governor Bill Anoatubby said. "When we do, we remember that collaboration should always prevail over conflict. We understand that it is up to all of us to create a better future and enhance the quality of life for our people."
Grann's "Killers of the Flower Moon" was adapted into a film, directed by Martin Scorsese and starring Leonardo DiCaprio and Lily Gladstone, and featuring many members of the Osage Nation, and shot largely in Osage County, Okla. The film releases in theaters on Oct. 20.
"We're thrilled to host best-selling author David Grann, whose work spurred an international conversation about the 'Reign of Terror,'" OC Chancellor John deSteiguer said. "Creating an accessible forum where valuable dialogue occurs not only for our students, but for the entire community is an important part of our university's mission. We are honored also to host esteemed leaders and public servants Principal Chief Standing Bear, Governor Anoatubby and Special Agent Gray. These individuals make a difference in their communities every day."
To learn more about OC's McBride Center for Public Humanities and the J.J. Millican Ethics Symposium, visit oc.edu.