OC teams soar at Oklahoma Intercollegiate Ethics Bowl, win tenth title in 11 years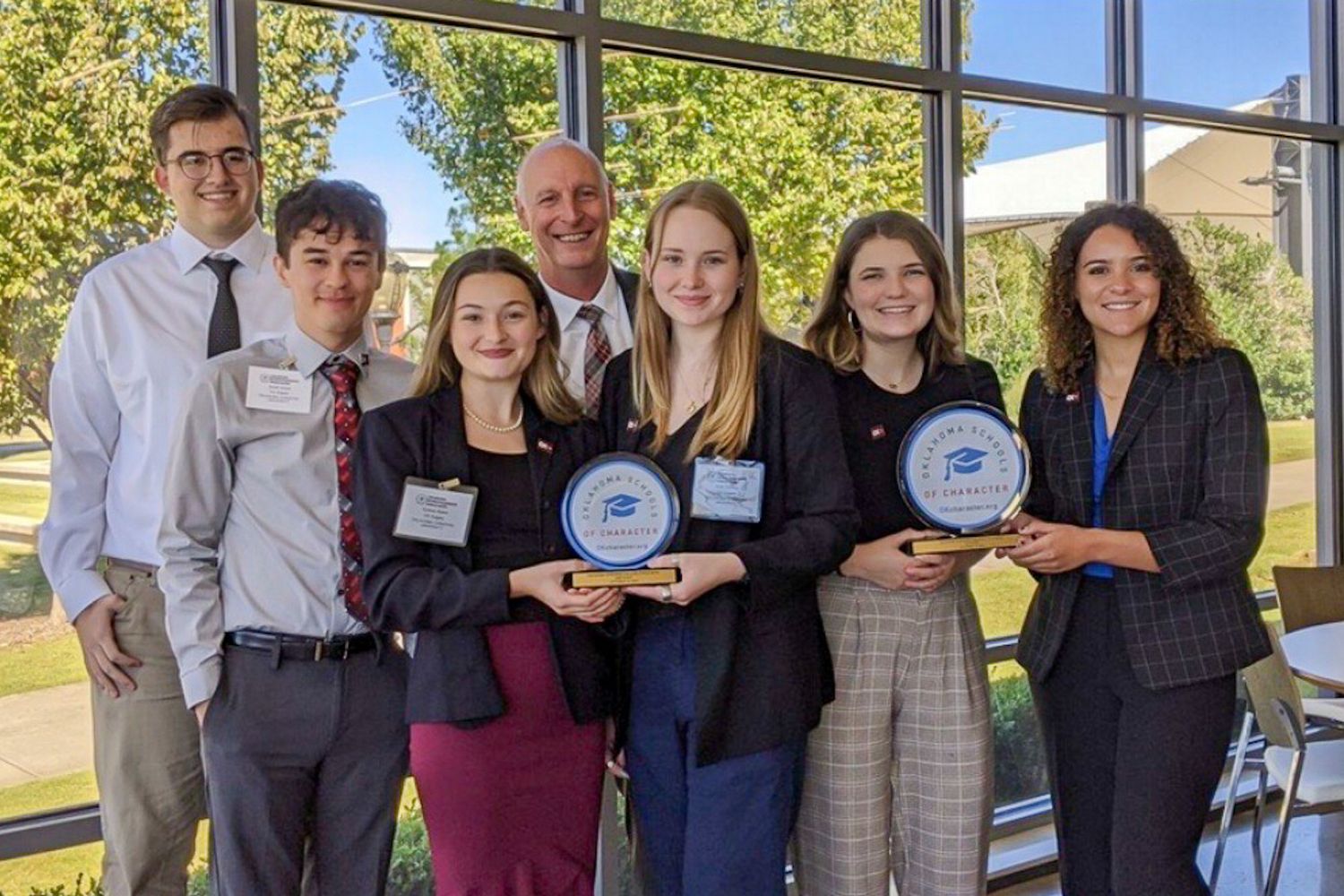 Both Oklahoma Christian University Ethics Debate Teams, the Eagles and the Aguilas, coached by Dr. Jeff Simmons, competed in the Oklahoma Intercollegiate Ethics Bowl on Sat, Oct. 14, 2023. Both teams went undefeated. Ultimately, the champion was determined by point differential and the OC Aguilas placed first followed by the OC Eagles in second and Oklahoma State University in third. This marks the tenth time out of the last 11 state competitions that a team from OC has won the Oklahoma IEB.
This year, the Oklahoma IEB along with OC hosted in the Harvey Business Hall teams from OSU, the University of Oklahoma, Cameron University and Northeastern University. All teams were judged on their understanding of the central moral dimensions, clarity of their argument, their ability to critique the opposing team's argument, and the ability to respond to questions from the judges. The OC teams included Holly Grimes ('25), Jonah Zerpa ('26) and Sydney Byers ('25) on the Eagles; and Rielyn Williams ('24), Ali Richardson ('24) and Jackson Oberndorfer ('26) on the Aguilas.
The Oklahoma IEB, a competitive academic event, focuses on ethical reasoning and ethical decision-making – an important part of today's educational landscape. The local chapter is part of the larger IEB program, which involves collegiate teams from across the United States engaging in a structured and competitive discussion of complex ethical dilemmas. The competition format encourages respectful and constructive dialogue and teams must respond to questions and challenges from the judges and the opposing teams, promoting thoughtful, well-reasoned discourse.
"I love participating in Ethics Debate," said Byers ('25) in an email, "because it has taught me how to have meaningful conversations in a civil and respectful way. We have learned how to think more critically, become better listeners, and it has made us more disciplined."
If able, the OC teams will now move on to the Texas Regional Ethics Bowl on Nov. 11 at St. Mary's University in San Antonio. The competition is part of the larger IEB program which has been running for over 25 years.